Restoring the Heart of your Home
Milwaukee's Kitchen and Bath Specialists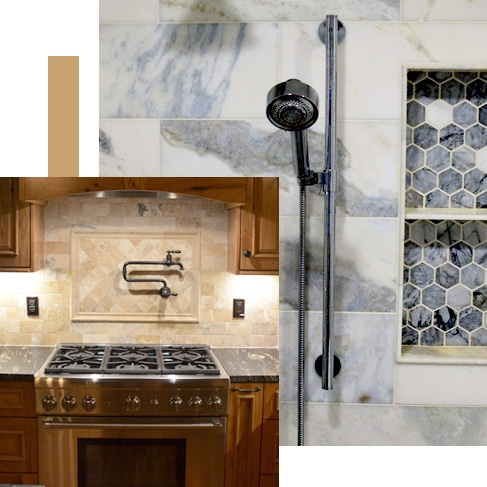 Milwaukee Area Home Remodeling and
Home Improvements
Building houses with passion
At Derus Home Improvements, we offer superior quality home remodeling and home improvements. We offer high-end services for your Kitchens, Bathrooms, Sunrooms, and New Room Additions. We can make those dreams a reality in a short period of time while cutting through the red tape, helping you understand your current and future needs. We have the highest standards in workmanship, materials, and work with you to stay within your budget. These types of improvements, if done correctly, not only improve the comfort and daily living for your family but can increase your home's value. Homeowners in Milwaukee, Fond du Lac, West Bend and the surrounding communities have trusted their home remodel projects to us.


We would recommend Derus Home Improvement to our friends and family, or anyone who asks about any home improvements they may have. You were on time and on budget, and always there for us, making sure we received the best. Our expectations were met or exceeded every step of the way! We are forever grateful to you for making the project a great experience! Thank you for a job well done!
My experience with Nick Derus of Derus Home Improvements has been nothing but exceptional. We had a one-story family room added to the back of our lannonstone colonial home. From start to finish, Nick was always available to answer any questions or address any concerns my husband or I may have had. The quality of the finished addition is superb and I can honestly say that we thoroughly enjoy the room each and every day. We have also received numerous compliments on it from visitors. I wouldn't hesitate in the least to hire him again for future projects. Nick is truly an honest, fair and outstanding contractor!
Derus Home Improvements turned my 1947 bathroom into one suited for the Parade of Homes. Nick had great ideas while always listening to what I wanted. He provided patient and knowledgeable guidance to this very confused customer. His talent, commitment, integrity, and honesty were apparent from our first meeting. He and his staff completed a job that exceeded my expectations and was on time. They were always conscious of my working at home and made it an easy experience. Hiring Derus Improvements was one of the best decisions I have made and would never consider using another contractor.
We love both bathrooms! It is such a huge improvement. We should have done them years ago!!!
Handcrafted Amish Cabinetry
Your home deserves the finest in craftsmanship, and there is nothing finer than cabinets handcrafted by Amish woodworkers. Their attention to detail cannot be duplicated by factory produced cabinets. Derus Home Improvements use Amish crafted cabinets in all of our projects.
Hiring A General Contractor Saves You Time, Money and Aggravation
Have you ever done a renovation project in your home? Perhaps you have more than one. Did you have to deal with multiple contractors while trying to get your build or remodel planned or completed? Did the project drag out longer than expected? It doesn't have to be that way!
At Derus Home Improvements, we are committed to making your home remodel project as smooth and painless as possible. You want your upgrades and building to be done properly to code, but also want your contractor to be sensitive to your specifications and the personal needs of your family. In our refined process, you don't have to deal with multiple vendors and trades people. We are the general contractor, not you. We will make sure your project is top priority for every vendor we hire.
A No Hassle Remodel Project
Derus Home Improvements is a General Contractor who directly hires quality designers, carpenters, electricians and plumbers. That means you only deal with one entity for your home projects. We'll come to your home to discuss your dream bathroom, kitchen, addition or sunroom. We'll come up with a ballpark estimate on the spot and a plan to get the work done right, on time, and on budget.
We do the background checks, gets competitive quotes from vendors, and provide quality control through every step of the project. We coordinate all the work, services and materials necessary for your remodel completion. We also apply for and obtain all the necessary permits and deal with all city and ordinance inspections. Let us coordinate every detail of your home improvement project, so you can quickly get back to enjoying your home and family life.
Call Nick at 414-530-0710 to discuss your ideas for improving your home.